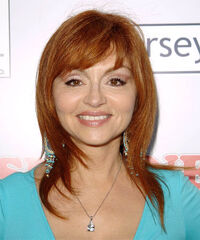 Judy Tenuta (born Judy Lynn Tenuta on November 7, 1956 in Oak Park, IL) is an American Comedienne, Actress, Producer, and Accordionist. She appeared as a regular on the 1998-1999 revival of the classic Game Show Match Game.
Native of Oak Park, Illinois and one of nine siblings in a large Catholic family, to a Polish mother Joann, and an Italian father, Caesar.
Tenuta first gained notoriety as a wisecracking, accordion-wielding self-proclaimed "Petite Flower and Love Goddess" during the golden age of character comedy in the mid '80s with such notable contemporaries as Sam Kinison and Steven Wright. She has been featured in several productions of "Weird Al" Yankovic, including The Weird Al Show and the music videos for "Headline News" and "White & Nerdy". Her most extensive profile came from a series of TV ads for MTV and most notably, Diet Dr Pepper in the late-1980s, as well as her HBO, Showtime and Lifetime specials which became popular and gained her a loyal following. She is also well known for her often quoted catch phrase, "It could happen!"
In 1987, she became nationally known in her first HBO special Women of the Night, co-starring alongside fellow comediennes Ellen DeGeneres, Paula Poundstone and Rita Rudner. She also became the first female stand-up to win the "Best Female Comedienne" at The American Comedy Awards. In 1994, she was nominated for her first Grammy, for her comedy CD titled Attention Butt Pirates and Lesbetarians and one year later, Tenuta was nominated for her second Grammy, for her second comedy CD titled In Goddess We Trust. In 1998, around the time she began appearing on the Match Game revival, Judy conceived, produced and starred in the film Desperation Boulevard which was directed and written by Greg Glienna, of Meet the Parents fame.
In addition to Judy's appearances on the late 1990's revival of Match Game, she has also appeared as a panelist on Hollywood Squares and appeared on a celebrity edition of Street Smarts hosted by fellow comedian Frank Nicotero.
In 2011, she played Zania, a menacing, aging actress, in the independent film, Going Down in LA-LA Land and the Mother Nun in the independent horror comedy Sister Mary. She would go on to be nominated for Best Actress at the 2012 Laugh or Die Comedy Fest for her performance.
Tenuta is also an accomplished author as she published her first book, The Power of Judyism in 1991, following up with an audio CD version in 1999. Her persona encourages fans to convert to her own personal religion, "Judyism".