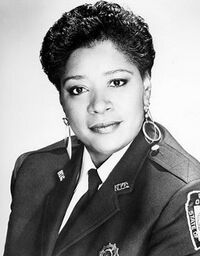 Marsha Warfield (born Marsha Francine Warfield on March 5, 1954 in Chicago, IL) is an African-American Comedienne and Actress. She is best known to TV audiences as Bailiff Roz Russell on the NBC sitcom Night Court (from 1986-1992) and as Dr. Maxine Douglas on NBC's Empty Nest (from 1993-1995). She appeared as a panelist during the pilot week of the early 1990s revival of Match Game.
Born Marsha Francine Warfield in Chicago. She attended Calumet High School. Before breaking into acting, Warfield got her big break in the field of comedy as she wrote and performed on the short-lived Richard Pryor Show in the late 1970s.
Marsha landed her big break in acting in 1986, her notable role to TV audiences: tough, no-nonsense Bailiff Roz Russell on the NBC sitcom Night Court. She was the third and youngest person to occupy the female bailiff role but first African-American after the series suffered the losses of equally droll character cutups in actresses Selma Diamond and Florence Halop, both of whom died of lung cancer (Diamond passed away on May 13, 1985, Halop passed away on July 15, 1986). Warfield's Roz Russell played straightwoman (as did Diamond & Halop) to Bailiff Bull Shannon (played by actor Richard Moll), she remained with the series until it's end in 1992.
After Night Court, Marsha went on to appear on the sitcom Empty Nest (also on NBC) as Dr. Maxine Douglas, she appeared on that show until the series ended in 1995.
Warfield has also appeared in feature films such as D.C. Cab in 1983 and Mask in 1985. She also hosted her very own talk show The Marsha Warfield Show for ten months (March 1990– January 1991) on NBC. She also appeared in a string of guest starring roles on shows which include Riptide, Family Ties, Cheers, Living Single and Star Dates. She has also done stand-up comedy including appearances on the Norm Crosby hosted The Comedy Shop television series.
Today, she is active on Facebook and Twitter.