Jurassic World: Dominion Dominates Fandom Wikis - The Loop
Play Sound
Host
Fred Willard
Announcer
Randy West
Taped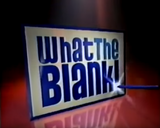 FOX Pilot: May 8, 2004
Packager
FremantleMedia North America
This is chronicling the 2004 pilot for a 21st century reboot of Match Game for FOX called What the Blank!.
Premise
[
]
The show is basically the same as the classic 1970s-80s version but with a twist. The questions have a visual flare added to them and a question introduced as a rap song.
The panel playing the pilot consisted of: Andy Kindler, Laura Kightlinger, Zack Galafankis, Anna Nicole Smith, Martin Mull, The Coors Twins (Diane and Elaine Klimaszewski).
At random times during the show, various panel members' & host's "thoughts" (usually sarcastic) were played as a voiceover during what would normally have been pauses during the show.
Main Game
[
]
The game is generally played the same as before but a few changes which will be mentioned as this article goes on.
A question was immediately revealed as there was no choice of two questions marked "A" or "B" nor pun-style categories. Then the celebrities wrote down their answers on electronic writing tablets instead of cards. When the answers were locked in, the contestant then gave his/her response and upon giving his/her answer, it appeared on the screen, likely for the home viewers to remember. Then the celebrities' answers were checked out one by one. Each match scored points; 1 point in Round 1 and 2 points in Round 2. The player with most points at the end of two rounds won the game.
Super Match
[
]
The Super Match was played as it always has.
The game started with an Audience Match in which a previous studio audience is polled, and the top three answers are hidden on a game board. The player can choose three celebrities for suggestions; they can then select one of them, or go out on their own. The most popular response is worth $5,000, second is $3,000, third is $2,000. Once a match was made with one of the answers, the winning player then played a Head-to-Head Match for even bigger money. The winning player chooses one celebrity to try to match, but the answers have to match exactly. A successful match multiplied the winnings by five ($10,000/$15,000/$25,000).
Trivia
[
]
FOX abruptly and ultimately canceled the series before the show made it to air. Randy West has one clip of his announcing as part of a demo reel he uploaded on YouTube. On May 17, 2020, Wink Martindale uploaded the pilot in full.
The visual style questions and the Super Match payoffs have since been carried over to the current Match Game revival.
Video
[
]